Now you can get credit when you refer a friend to purchases a new LiveU Solo device (and they get something too)!
Let's dive into how the referral program works!
Overview
The referral program works through a few simple steps:
You create a one-time use code to give to a friend, colleague, etc.
Each code can only be used once, by one person, but you can generate as many one-time use codes as you want - and track which ones are eventually claimed.
There is no limit to how far in the future a code can be claimed.
You share the short code with a friend or colleague - once they purchase a brand new solo, they will have a chance to use that code for some savings of their own!
Note - it must be a new Solo, at this time purchase of after-market solos, such as on eBay or other used-goods sites, do not count.
When your friend or colleague is registering the new Solo via their own login on the Solo portal, they will see a place to enter the code.
The system will validate the code is unclaimed, and once the user clicks complete, you will both get a credit to our LiveU Solo services!
What credit will you get? While the exact way the credit may be applied may differ by your exact account setup, here are the rewards for referring a friend or colleague:
| | | |
| --- | --- | --- |
| If You Are... | You Get... | Your Friend or Colleague Gets... |
| A Solo Connect Subscriber | 1 Month free of Solo Connect! | 20% off their order of LRT or Solo Connect |
| An LRT Subscriber | 3 Months free of LRT! | 20% off their order of LRT or Solo Connect |
Because users may be annual subscribers, have paid with license keys, or other account specifics, the exact way the above rewards will be applied to your account may vary.
Creating Referral Codes
Once you log into the Solo Portal, click on the new link that says "New! Refer a Friend and Save!":

Here, you can Generate a new code, and easily copy it to paste elsewhere. You can also see all the previous codes generated and if they have been claimed, including recopying the code should you need.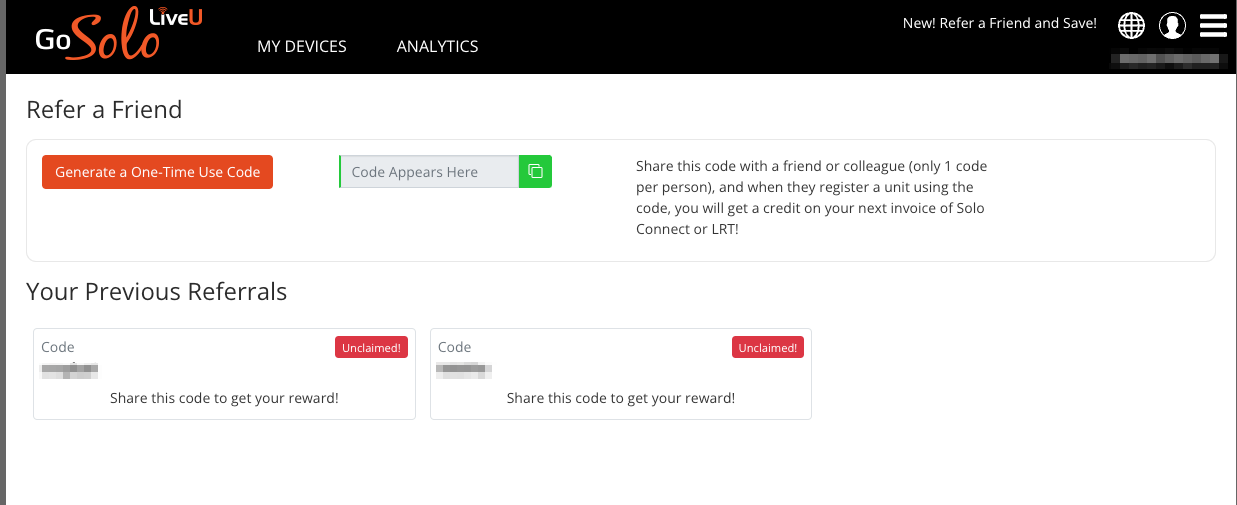 Share Your Code
The next step is to give that short referral code to a friend or colleague. Remember, each code can only be used once, by one person. But, you can return to the above step and generate as many codes as you want!
When Claiming a Code
For your friend or colleague, or if you are the one claiming a code - when you click Add Unit to register a new unit to your account, you will now see the place to include the code shared to you: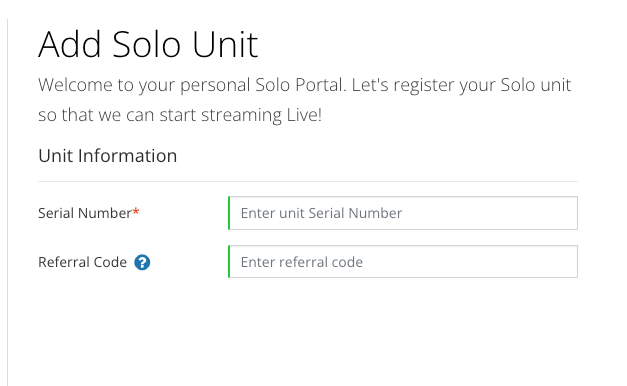 Enter the code in the box labeled Referral Code, and wait while the system checks this code is unclaimed and ready to use. Once you enter the serial number of a newly sold unit, and click Submit, both you (the person claiming the code) and the original person that shared the code will be queued up to receive your credit!
A Few Details
Units can be purchased anywhere in the world, and you can share codes with users all around the world. It may take some time for your credit to be applied, look for it on future invoices of your services (LRT or Solo Connect). If you are not a LRT or Solo Connect subscriber (or the person claiming the code is not), no further discount or reward will be applied.