The LiveU Solo PRO - HDMI and SDI/HDMI models - supports two USB ports that power two external modems. It also provides one Wi-Fi and one Ethernet interface, bringing the total number of bonded network interfaces to four.
Note
The Solo PRO currently supports up to two external modems. Support for four external modems, creating the potential for up to six bonded network interfaces, will be available in the near future.
Note
On the right side of the Solo PRO, there is a flap under which there are slots for SIM cards. The SIM card slots are inactive in the Solo PRO, which supports only external modems.
When the LRT service is active, a total of four interfaces provides simultaneous bonding of more than one network and support increased bandwidth and resiliency when streaming from the field.
While the Solo PRO is powering on, it connects to its modems, Wi-Fi and Ethernet interfaces to various networks and combines their bandwidth into a single consolidated broadband uplink connection. The device then encodes incoming video into an H.264 stream and transmits it over the aggregated bandwidth to the cloud LRT service. LRT is converted to RTMP and streamed to the specified destination.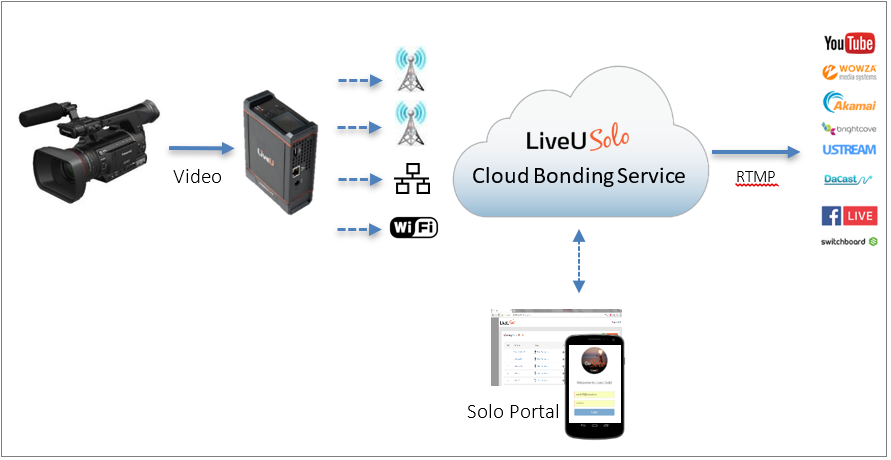 LCD screen: Displays the streaming video

Power / Play: Toggles between ON / OFF and starting / stopping transmission

JOG: Navigates among the menu options.

Back: Returns to the previous screen.