Charging the LiveU Solo Battery
The LiveU Solo contains an internal battery that enables up to two hours of standalone operation when fully charged. We recommend charging the battery for at least 4 hours before first using the LiveU Solo.
To charge the battery, plug the 12V AC Power Adapter into the DC IN connector on the LiveU Solo.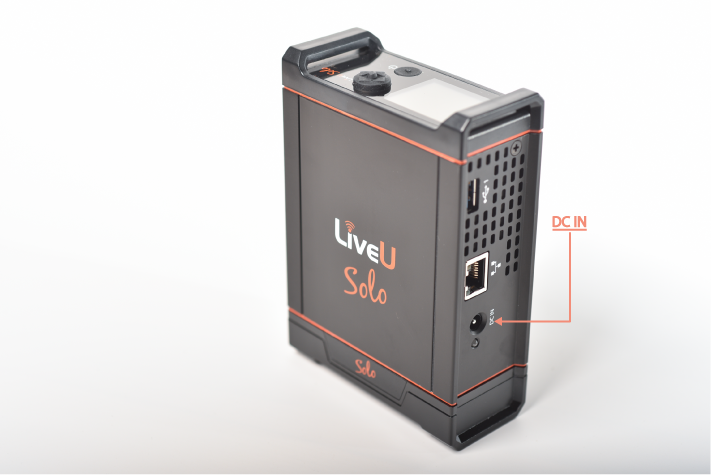 While charging, the LED near the DC IN connector will be red. When the battery is fully charged, this LED will turn green.
Note that the battery charges even when the unit is turned on.
It is good practice to keep the unit plugged into a power outlet when it is not in use, ensuring it is charged and ready for operation at a moment's notice.
Safety Information – LiveU Solo
CAUTION

Do not disassemble this product. Do not remove its cover or its back. There are no user-serviceable parts inside. Refer servicing to qualified service personnel only. The use of controls, adjustments or procedures other than those specified in the guide may result in exposure to shock and/or electrical or mechanical hazards.

The LiveU Solo contains an internal battery that is not designed to be removed by users. As such, you should treat the unit accordingly:

· Avoid shorting the battery.

· Do not immerse the unit in water.

· Do not disassemble or deform the battery.

· Do not expose the unit to fire and do not dispose of the unit and its internal battery in fire.

· Avoid excessive physical shock or vibration of the unit.

· Never use a unit that contains a battery that appears to have suffered abuse.
Store the Solo in an environment with low humidity that is free from corrosive gas, and in temperatures from -20°C to 60°C, < 80% RH.
Only use the originally approved power supply adapter.
Only use the supplied accessories. Accessories (including cables) must not be replaced.
Do not use the product if there is any physical damage to the enclosure.
Keep all air inlets and outlets free of any objects that may interfere with the air flow for at least 10 cm.
It is normal for the product to become slightly hot during use. However, if the enclosure's temperature becomes unbearable to touch, turn the product off and contact support.
Avoid leaving the product unprotected in direct sunlight for more than five minutes.
Do not let the product come into contact with corrosive materials.
Do not let the product come into contact with explosive or corrosive gas.
Do not let the product come into contact with fire.
To prevent fire or shock hazard, do not expose the product to rain, liquid or moisture. The product can be used in light rain while it is protected by the Solo belt pouch. The product is not designed to be used under water.
Only use the original LiveU pouch. Do not place the product in a non-LiveU bag.
If the LCD screen breaks for any reason, do not touch the glass.