What Is Solo Stream Tools?
Solo Stream Tools is a service integrate with the Solo Portal, which adds features to your unit and streams.  Learn more about it here as well as in this getting started guide.  Stream Tools includes:
Multi-Destination:

Up to 3 destinations can be streamed to simultaneously

Logo bug:

Add and position a logo on your video stream

Fallback slate:

Upload a full screen graphic, that will be displayed any time your stream stops for any reason 

Audio controls:

Mono audio streams are automatically mirrored into stereo on output
you can control the volume of the stream, including boosting the audio from the input

Preview with audio and VU Meter:

Get a 480p15 preview of your video stream in browser, along with audio and an audio VU Meter 
The list of features will expand over time, so check back here for more news on future features.
How Can I Get Solo Stream Tools?
Solo Stream Tools is a service that is purchased on a per-unit basis.  It includes LRT, so you do not need both, instead you upgrade your LRT subscription to Solo Stream Tools instead.
You can subscribe on a monthly or annual basis, and can cancel your plan at any time, just like other Solo services.  
In order to subscribe to Solo Stream Tools, simply click Add Stream Tools on the LiveU Solo dashboard for any unit you want to add it to.
If you are already subscribed to LRT, the Solo Portal will calculate any amount left on your monthly or annual LRT subscription and credit you for that amount, so you will not forfeit any dollars already spent on LRT.
Both Solo and Solo PRO can subscribe to Solo Stream Tools.
Turning Solo Stream Tools On and Off
Once subscribed, you can choose to route your stream through Solo Stream Tools, or you can turn Solo Stream Tools off temporarily and stream as you normally would.  When the Use Stream Tools slider is toggled to on: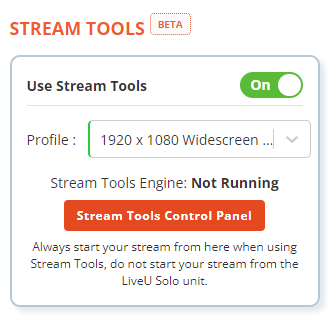 Your stream will route first to the Solo elastic LRT cloud, based on the Zone you have selected in the LRT box on the dashboard, then to a Solo Stream Tools engine in the same zone.  
When you toggle Solo Stream Tools off:
You can only send to one destination, and other destinations will be removed from your destination list until you again toggle Solo Stream Tools on
Your stream will route to the Solo elastic LRT cloud based on your setting for LRT in the LRT section of the Dashboard (will route to the LRT cloud if on, will not route to the LRT cloud and will only use the RTMP Protocol over a single interface, if off)
Selecting Multiple Destinations
While Solo Stream Tools is on, when you click the Select New Destination box, it will add that destination to a stack of three possible, rather than replace your current destination as it did previously: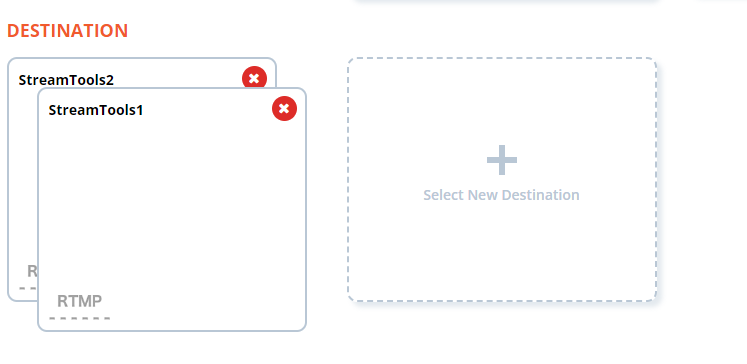 You can select all of the normal destinations supported by Solo Portal.  
To remove a destination from the stack, just use the red X button in the upper right corner to remove any destination.  
If you mouse over a destination in the stack, you can see the full details normally displayed in the destination box.
Adding a Logo or Slate
Any time before your stream starts or once running, you can click on Solo Stream Tools Control Panel to configure other Solo Stream Tools settings, plus see the preview:

Once on the Solo Stream Tools Control Panel, you will see the preview and audio controls. From here, to control the Logo or Slate settings, click Configure Settings.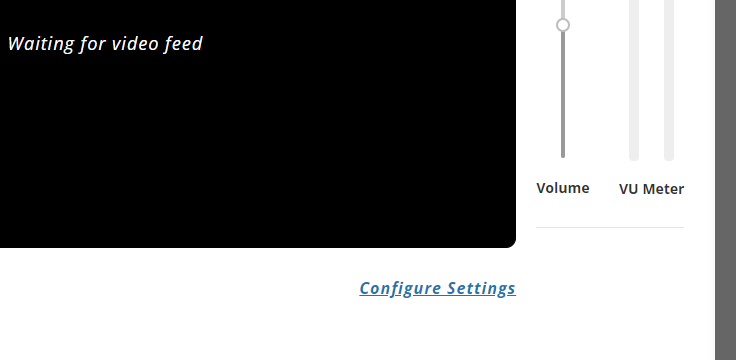 On the settings page, you will see options to Upload New Logo or Upload New Slate.
For the Logo, once uploaded, you can position the logo on the 16:9 video frame using drag and drop. 
When you have the logo you want uploaded and positioned, be sure to click Add Logo to add it to the stream (running or not).  If you are repositioning the logo or changing it, the button will say Update Logo instead.
For the fallback slate, you upload a new slate in a very similar way, using the Upload New Slate button.  There is no need to position anything however, the Slate will be shown full screen any time your source stream stops.
Starting Your Solo Stream Tools Stream
In order to start the cloud Solo Stream Tools engine, you must use the Go Live button in the Solo Portal.  Once started, you can start and stop your unit using the controls on the unit, and any time you stop the unit, your fallback slate will be triggered and displayed.  In order to stop the Solo Stream Tools engine, use the Stop Streaming button in the Solo Portal - with or without your unit streaming.
When first starting a Solo Stream Tools stream, the Solo Stream Tools engine has to start - which can take up to 90 seconds.  However, in many cases it should start quicker, adding 30 seconds or less to the start time.
Conclusions
These are the basics of using Solo Stream Tools.  Look for other articles in this section for even more details on using the service.